Creative Woman Mysteries
Intrigue. Danger. Romance
Meet Shannon McClain in this multi-author cozy mystery series set in fictional Apple Grove, Oregon –
Avid crafter
Mother of twins
Craft store owner
Amateur sleuth
. . . as she and the Purls of Hope knitting group find themselves with exciting and dangerous mysteries to solve.
Series book order:
BOOK 1: Strands of Fate by Linda Kozar
BOOK 2: A Deadly Stitch by Susan Sleeman
BOOK 3: Recipe for Deception by Rachael Phillips
BOOK 4: What a Picture's Worth by Susan Page Davis
BOOK 5: Dog Gone Shame by Susan Sleeman
BOOK 6: Patchwork of Lies by Sharon Dunn
BOOK 7: Deadliest in Show, by Christy Barritt
BOOK 8: Guilty Treasures by Rachael Phillips
BOOK 9: A Tangled Yarn by Pam DeVoe
BOOK 10: A Matter of Wife or Death by Susan Sleeman
BOOK 11: Murder in Two Acts by Christy Barritt
BOOK 12: Horseplay at White Meadows by Marlene Chase
BOOK 13: Deadly Garland by Elizabeth Blair
---
A Deadly Stitch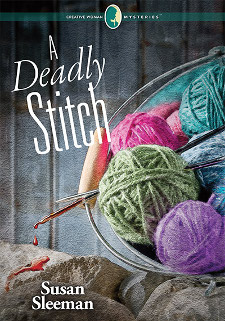 Creative Woman Mysteries Book 2
After Purls of Hope member Melanie's ex-husband is found buried in the flower bed outside the craft store with one of her knitting needles in his neck, she's named as the number one suspect in his murder.
She certainly had the motive. He'd left her a year earlier, after learning she had breast cancer. And it's no secret they hadn't been on good terms since.
Shannon and the Purls know someone is setting Melanie up. But who would do such a thing? And can Shannon track down the real killer before he strikes again?
---
Dog Gone Shame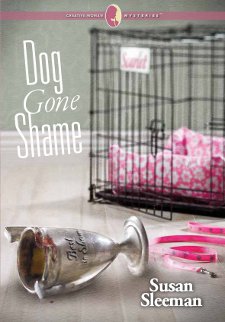 Creative Woman Mysteries Book 5
When Purls of Hope member Kate Ellis agrees to dog sit for Scarlet, a purebred champion Havenese, Kate doesn't count on finding Scarlet's owner Milicent Downing murdered on her kitchen floor. Nor does Kate count on being named the number one suspect in Millicent's murder.
Shannon comes to Kate's rescue, digging into the case, until she unearths motive for Kate to want Millicent dead. Still, Shannon believes in Kate's innocence. She just has to prove it. Can Shannon track down the killer or will he get away with murder?
---
A Matter of Wife or Death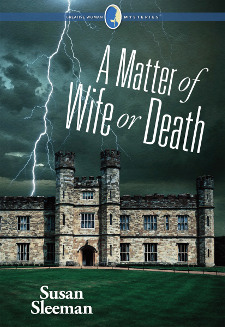 Creative Woman Mysteries Book 10
Shannon and the Purls travel to Scotland to attend the wedding of Coleen's oldest daughter. Coleen has scrimped and saved for years for this grand wedding that will take place at Hamilton Castle. But when she discovers that the wedding planner has stolen money from the bride's account, Coleen doesn't know how she's going to pull off her daughter's dream wedding.
Coleen confronts the wedding planner warns her that if she doesn't return the money to the account by the end of the next day, Coleen will make sure she wishes she had. When the wedding planner is discovered murdered the next morning and Coleen's fingerprints are all over the murder weapon, she becomes the prime suspect. Shannon must use her sleuthing skills once again to solve the murder. With the clock ticking down to the wedding Shannon best hurry if she hopes to keep her best friend and the mother of the bride out of jail.
---
Susan has more books on the way. Though titles and release dates have not yet been confirmed, Susan will post the latest info here as soon as it becomes available.
Don't miss a thing — sign up for Susan's newsletter.
Subscribe