BEHIND THE BADGE – Now Available!
The Morgan Brothers – Book 2

YOUR SISTER IS NEXT!

A killer is threatening the life of rookie cop Sydney Tucker's sister-unless Sydney turns over evidence from a drug bust. But she doesn't have the evidence. Not that the thug believes her. Now she and the sibling in her care are under the watchful eye of Logan Lake police chief Russ Morgan…but will his protection be enough?

The killer is closing in, picking off the people and places that mean the most to Sydney. A list that now includes Russ. To protect her loved ones, will she pay the ultimate price-her life?

Order It Now for e-book or in print
---
DEAD WRONG – Available November-2012
The Justice Agency – Book 2

When Kat Justice's old friend shows up at the Justice Agency claiming her dead brother has just answered his cell phone, Kat heads up the investigation to find the man impersonating the brother. But the investigation comes to a screeching halt when the killer strikes again, killing the friend and nearly ending Kat's life at the same time.

Kat commits to finding the killer, even if that means partnering with homicide detective Mitch Elliot. Nothing could be worse than working with the man she'd had a crush on during her rookie year in the Portland PD. She'd put her feelings out there, but he'd treated her like a kid sister. That is, when he noticed her at all.

Well, he's noticing her now, but Kat has recently lost her adoptive parents and she's worried about losing everyone she loves so she fights her attraction to him. When the killer continues his relentless drive to end Kat's life, she's forced to let Mitch get close enough to help keep her alive, but can she keep from falling for him?
---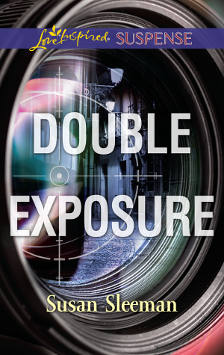 DOUBLE EXPOSURE – Available June-2012
The Justice Agency – Book 1

A PICTURE WORTH KILLING FOR

Photographer Jennie Buchanan unknowingly captures a drug-cartel meeting on film. And now she has become a killer's next target. Even worse, her only protection from the danger that threatens her life is the man who threatens her heart. Dodging bullets almost seems safer than facing the feelings stirred up by seeing former FBI agent and ex-boyfriend Ethan Justice again.

Ethan vows to safeguard Jennie from the deadly men on her trail. And for a second chance at Jennie's love, he's willing to risk anything to expose the truth—about the drug smugglers, the past and the future together he still wants.

Pre-Order It Now
---
HIGH-STAKES INHERITANCE – Now Available
The Morgan Brothers – Book 1

"LEAVE LOGAN LAKE NOW OR YOU WILL PAY!"
Despite the threatening warning, Mia Blackburn won't let anyone scare her from the rustic resort she inherits from her beloved uncle. But when a fire traps her in a burning barn, she fears that she won't get out alive.

Just in time her ex-boyfriend volunteer firefighter Ryan Morgan rescues her from the deadly blaze. He had once broken her heart, yet she still has feelings for him. With Ryan insisting on keeping a close eye on her, Mia feels safer-and closer to Ryan than ever before. Yet the threats haven't stopped, and soon Mia's high-stakes inheritance includes a murder and Mia could be the next victim.

Order It Now for e-book or in print at:
---
NIPPED IN THE BUD – Now Available
Garden Gate Mysteries Book 1

WHEN YOU FIND YOUR BOSS PUSHING UP DAISIES. . .

Life in full bloom, landscape designer, Paige Turner, scores her first landscaping contract to spruce up the park, her radio talk show shoots to number one, and her retail shop is simply blossoming. Yes, her life is a bed of roses. Until she finds City Manager, Bud Picklemann served up on the blade of her favorite shovel mere hours after she's threatened to have his head on a platter, then the thorns come out. And there is none thornier than the local police chief declaring Paige the one and only suspect and threatening to plow her under.

YOU'VE GOT TO FORMULATE A PLANT OF ATTACK . . .

Paige teams up with dashing attorney, Adam Hayes to weed through the list of suspects, and clear her soiled reputation. A bigmouthed Parrot who often spouts Mr. T-isms, and a giant pickle mascot join in quirky Paige's quest to once again cultivate control of her life.

Order It Now for Kindle / Coming soon for other e-readers

Order It Now in Print
---
READ BETWEEN THE TINES – Now Available
Garden Gate Mysteries Book 2

IF YOUR LIFE IS A BED OF ROSES. . .

Recovered from her near death at the hand of a killer, landscape designer Paige Turner is certain her life will soon be a bed of roses. That is, until her employee, Daisy Rose Plant, finds a dead body, and the thorny police chief looks no further than Daisy for a suspect. Paige digs in and weeds through the list of potential killers, and before long, her sweet smelling rose of a life is soundly trampled.

YOU'LL HAVE TO SURVIVE THE THORNS. . .

Paige would be much happier working over-thyme on her budding relationship with handsome attorney, Adam Hayes, but it soon becomes clear she'll be in a hoe lot of trouble with him if she continues digging for the killer. Does Paige risk all and try to unearth the killer? Or does she settle down in peas-ful bliss with the man of her dreams?

Order It Now for Kindle

Order It Now for all other e-readers
---
THE CHRISTMAS WITNESS – Now Available
The Morgan Brothers – Book 3

DON'T SAY A WORD!

When a criminal threatened to kill Megan Cash if she testified against him, she didn't back down. Years later, he's out of jail and ready for revenge against Megan and her daughter. The only one who can protect them is the former FBI agent who broke Megan's heart.

But Reid Morgan isn't the same man—he's now a widowed father with a harrowing past. . .and a heart more guarded than ever. Still, he's the only one who believes Megan when she says she's in danger. Because someone wants to make this a Christmas she won't live long enough to forget.

Order It Now for e-book or in print
---
Susan has more books on the way.
Though titles and release dates have not yet been confirmed, Susan will post the latest info here, as soon as it becomes available.
Don't miss a thing — sign up for Susan's newsletter!