A PICTURE WORTH KILLING FOR
Photographer Jennie Buchanan unknowingly captures a drug-cartel meeting on film. And now she has become a killer's next target. Even worse, her only protection from the danger that threatens her life is the man who threatens her heart. Dodging bullets almost seems safer than facing the feelings stirred up by seeing former FBI agent and ex-boyfriend Ethan Justice again.
Ethan vows to safeguard Jennie from the deadly men on her trail. And for a second chance at Jennie's love, he's willing to risk anything to expose the truth—about the drug smugglers, the past and the future together he still wants.
Buy It Now for Print and E-book



Buy A Signed Copy


» Read an Excerpt
---
ALL BOOKS IN THE JUSTICE AGENCY SERIES
Family and Law Enforcement Go Hand In Hand
1
Double Exposure
featuring Ethan Justice – June-2012
2
Dead Wrong
featuring Kat Justice – November-2012
3
No Way Out
featuring Cole Justice – May-2013
4
Thread of Suspicion
featuring Dani Justice – October-2013
5
Dark Tide
featuring Derrick Justice – March-2014
Someone threatened to kill her last night. Now a man was following her.
Coincidence? Not likely.
Jennie Buchanan's breath hitched as she boarded Portland's MAX light-rail train and wound through standing passengers toward the far door. She glanced back.
The guy crept in. Searching the car, he caught sight of her and headed down the narrow aisle.
Her photographer's eye took in every detail. Short, stocky, wearing a light gray hoodie, twenty-five at the oldest, he looked like one of the many skaters hanging out at Pioneer Square. His eyes told a different story. Dark and narrowed, fixed on her like a hunter sighting prey.
He advanced. Silent. Stalking. One hand never leaving his hoodie pocket.
Had to be a weapon. A gun, maybe, or a knife.
Fear razored through her stomach, and she backed deeper into the car. She tripped on a baby stroller, grabbed the handle and righted herself. The fresh scent rising up from the sweet baby did nothing to calm her fears.
"Sorry," she said to the mother, her voice trembling. She tried to smile an apology, too, but her mouth wouldn't cooperate.
She couldn't endanger the baby so she kept moving, easing in and out of people. She ached to ask them for help. The tall man with a kind face. A young woman, earbuds snugged in her ears and tapping her foot, her face buried in a book like many of the other commuters. Not a good idea. What could she say? How could she make them believe she was in danger when even she didn't know why?
She searched for an escape route before the train departed, but the doors grated on its hinges and closed with a solid thud. She had no way out. Her heart picked up speed, thudding in her ears, a rapid thump, thump, thump as her brain clouded with indecision.
Please God. Send a police officer. Even a transit cop would be good. Anyone official, really. Just someone in uniform to scare him off.
He continued to move closer. Slower now. Stealthily, like a hunting cat. He flipped up his hood, his face dark and shadowed. Who was he? And what did he have planned?
He came to a stop on the other side of the car. He looked up and the overhead light gave her a clear look at his dark eyes boring into her.
The train jerked on its rails. A high-pitched squeal grated up her nerves. Riders jostled. She lost her footing for a moment. So did he, wobbling then reaching up to clamp stubby fingers around a slick aluminum pole.
She gasped.
His fingers. His hand. Stained bright red, the color running down the underside of his sleeve. Paint. Red paint. The same color used in the art gallery break-in last night where someone had ripped her photos from the wall and spray-painted a message.
OPEN THE SHOW AND YOU DIE! it said.
She hadn't seen the warning, but the gallery owner had phoned first thing this morning. She'd said the police wanted to talk to her, but Jennie was photographing a six-alarm fire for the newspaper so they agreed to interview her later. Jennie had spent the last two hours waffling between breathing in caustic smoke and wondering if these creeps would kill her if she went through with the show designed to raise money for her charity Photos of Hope.
Would it actually come to that?
She glanced at the guy again. Cold, deadly eyes peered out from the shadow of his hood.
Yeah, when she didn't cancel the fundraiser, he'd make good on the threat. And she wouldn't cancel. Of that, he could be sure. Her charity supported impoverished children and many would suffer without the money she raised for medicine and food. The children came first. They always came first.
But he couldn't possibly know they'd already decided to hold the show as scheduled. Only she, the gallery owner and the police knew, right? So why was he coming after her now?
He shifted, eyes raking her body. Drilling into her face as if he were mining her thoughts. Maybe he did know, and he was here to end her life.
Easy, Jennie. It's broad daylight. People around. He's not going to hurt you here.
Right?
Maybe.
She had no idea what he intended. She wanted to bolt through the car to move far away from those piercing eyes.
Stay calm. Two more stops. Just two more stops.
Then what? Get off the train and become an easier target? She needed help. She should call 9-1-1. And what? Tell them a man with red paint on his hands was following her? By the time she convinced them to respond, she'd be dead.
Think, Jennie. Think.
Her phone pealed from her pocket, the shrill ring making her jump. She turned away from her stalker's cold stare and looked at the screen. Madeline. The gallery owner.
"Thank goodness you called," Jennie whispered into her phone.
"Someone's following me. He has red paint on his hand and jacket. I think he's the guy who broke into the gallery last night." Her words tumbled over each other.
"Where are you?" Madeline sounded calm as usual.
"On MAX. First car. Two stops away." Anxiety made it hard to breathe. She paused and sucked in stale air but still felt light-headed.
"Ethan Justice is here. I'll send him to meet your train."
"Ethan." Of course! Ethan! Madeline had hired his PI agency to investigate the break-in and keep them safe.
Thank You, God.
"Stay on the phone," Madeline continued. "I'll give it to him and he can talk to you on his way there."
As the train slowed for the next stop and passengers stirred, Jennie heard Madeline relay details to Ethan. The doors opened, and she stepped aside to let people pass. Her hooded tail stayed put. His eyes never leaving her, the razor-sharp gaze terrifying.
"I'm on my way, Jen." Ethan's voice, warm and familiar, rumbling through the phone, sent relief flooding down her veins, the last reaction she expected for the man she'd walked out on ten years ago.
"He's after me, Ethan," she whispered.
"I can't hear you, Jen. Too much background noise."
"I don't want anyone to hear me," she said a bit louder. "It'll quiet down in here when we start moving again."
"I'll wait."
That was Ethan. Patient and caring. Coming to the rescue of a woman who'd hurt him. Hurt him badly. And yet here he was. On his way to stop the creep whose scowl said he'd kill her without a second thought.
She shivered, a long shudder working over the length of her body. She wrapped her free arm around her stomach and waited for the train to reach cruising speed. When the car settled into a soft, rhythmic hum, she cupped her hand over her mouth and phone.
"There's a man," she said. "He followed me from the fire."
"Are you sure he followed you?" Ethan breathed fast as if running.
"Yes. I was shooting pictures as I walked to keep my mind off the break-in. I caught him in the viewfinder a few times. I was already freaked out from hearing about last night so I wondered if he was tailing me."
She quickly looked to see if he still stood there. Fierce and threatening, he hadn't moved.
"I got on the closest MAX car," she went on. "Ran through it and back outside. Then I boarded the next car. He did the same thing."
Ethan mumbled something she couldn't make out. A loud exhale followed. "Madeline said something about paint."
"Red. On his hand and jacket. I didn't see it until he got close."
"What's he doing now?"
She glanced at him again. "Just watching me. But I'm afraid, Ethan." Saying it aloud sent another shiver down her body. "I think he might have a gun. He hasn't taken his hand out of his jacket pocket this whole time."
"Calm down, Jen. Panicking might make him do something crazy." He paused and she heard him draw in air. "I'm almost there. You should be able to see me soon. I'm wearing a long-sleeved white shirt and jeans."
Like she needed to know his attire. Even with this creep threatening her life, she'd instantly recognize someone she'd once loved.
"Madeline said you were in the first car," he continued. "Wave when you see me."
"Okay." She peered out the window, searching for the man she hadn't seen since their amazing summer vacation from college. Hadn't seen since the night she'd lied and told him that she just didn't love him and didn't want to be in a relationship with him anymore.
She'd never forgotten his face that night. Shocked, surprised, but most of all, hurt. So hurt. She still felt horrible about lying to him. She had a choice and had taken the easy way out. Rejecting him had seemed less painful than waiting for his rejection when he learned about her past. That would end their relationship anyway, so why wait? So much easier to end things before she fell even more in love with him.
Now he was committed to helping her.
In the distance, she saw him running, dodging people on the busy downtown sidewalk. She took in his lean, wide-shouldered build, square jaw and dark hair cut shorter than she remembered. The white shirt set off his dark coloring, making him look dangerous yet very appealing at the same time.
The train began to slow and she waved to let him know she saw him.
He stood tall and strong where her train would disembark. "Where's the guy standing in relationship to you?"
She checked to make sure he hadn't moved. "Behind me. A little to my left. Near the other door."
"Describe him."
"Hispanic. Short. Stocky. Wearing a light gray hoodie. He has the hood up."
The train's automated voice announced their pending stop and they slowed to a crawl.
"I see him," Ethan said. "When the doors open, I'll come forward and I want you to run out and get behind me. Okay?"
"Yes."
"I'm gonna hang up now to keep my hands free."
She nodded her understanding and slid her phone into her pocket. His hands came to rest at his sides, as he settled into a centered stance, clearly poised and ready for anything. Probably an unconscious habit from years at the FBI.
She was so thankful for his law enforcement training. Despite the years they'd been apart, it was immediately obvious how strong and capable he was. He'd probably been a wonderful agent—just as she'd always known he'd be. She wasn't surprised when she read in the paper that Ethan and his four siblings followed through on their high school pact. They'd decided to serve in law enforcement to show their appreciation and respect for their adopted dad who was a retired cop.
She was surprised, shocked really, when she read the rest of the article about an intruder murdering their adoptive parents. The local police department couldn't solve the case so the five of them left their jobs to hunt down the killer and then stayed together to form the Justice Agency.
If someone wanted to hurt her, she could think of no better allies than Ethan and his siblings.
Brakes squealed as the train slowed even more. This was it. Time to escape this creep.
Her palms grew moist. She scrubbed them over her jeans, stained and sooty from the six-alarm fire. She glanced back to check on her tail. He was on the move. Slowly inching toward her.
"C'mon, open, open, open," she whispered to the doors, but kept her eyes on him.
His hand came out of his pocket. Something slid through his palm and between his fingers. Looked like a knife. A switchblade. Closed. But easily opened with a flick of his fingers. He took a few more steps.
The train jerked to a stop. She lost her balance, wobbled and worked to regain her footing. She braced for the attack she feared was imminent.
His footfalls thumped slowly across the metal floor.
Close now. Too close.
Please, God, please! Let me get to Ethan before this guy hurts me.
The doors whooshed apart, but not before she heard a click. Not any click, but the distinctive snap of his switchblade opening a whisper of a space behind her back.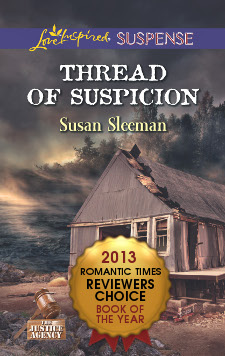 The Justice Agency – Bk 4
October – 2013
ISBN-10: 0373445571
ISBN-13: 978-0373445578
Buy It Now for Print and E-book


FALSELY ACCUSED!
When someone sabotages former navy SEAL Luke Baldwin's "unhackable" software, there's more than his reputation at stake. Faced with treason charges, Luke turns to Dani Justice, a computer expert and skilled investigator. She's eager to dive into the challenging case…until she uncovers a devastating connection. The hacker framing Luke has a personal, deadly history with Dani.
Luke's code of honor and his growing feelings make him resolved to protect the sweet, strong woman he knows is more vulnerable than she'd admit. But what good is his training or determination against an enemy who can hack into any system and find them wherever they hide?
---
---
Luke Baldwin's training as a Navy SEAL warned him he was in trouble. To pay attention, be still and take precautions. But darkness clawed at his senses, keeping him from fully waking and heeding the warning.
Hoping to get his bearings, he concentrated on the sounds unfolding around him. Cars whizzed by. Horns honked. If he were home in bed where he should be, he'd hear the quiet of suburban life, not Portland's bustling traffic.
Digging deeper, he managed to pry his eyes open and look around. He sat behind the wheel of his battered Jeep Wrangler tipped at an angle in the ditch with the hood pressed against an enormous Oregon pine. Thick underbrush had swallowed up his car and spindly pines swayed overhead in icy winds.
"What in the world?" He shook his head to clear his mind. Razor-sharp pain stabbed between his eyes. He let the lids fall, hoping to end the blinding intensity. Nausea curled his stomach and burned up his throat as the damp cold of winter seeped to his bones.
How had he ended up in the ditch?
C'mon, Baldwin, think.
He breathed deeply, letting oxygen rush to his brain and stem the nausea. Clarity tugged the edges of his mind, then suddenly it all came flooding back.
He'd been driving home in the wee hours of the morning to grab a quick shower before today's demonstration of his company's software. The roads were slick with rain, and fog hovered over the pavement. Driving too fast for the conditions, he felt his car start to slide. He'd pumped the brakes. The pedal sank to the floor with no resistance. His car left the pavement, slipping into the ditch and ramming the tree. With no airbags, his head slammed into the wheel and everything had gone black.
His ancient Jeep had failed him again. Of course it had. It was on its last legs and needed replacing. He should get a better car. One with reliable brakes and airbags. Not happening, though. He'd poured all of his money into his company.
Wait. Company. What time is it?
He glanced at his watch: 1030 hours.
No! Couldn't be. He'd be late for the demonstration.
He released his belt and dug out his cell phone. Dead.
"No, no, no!" He pounded the wheel, the lancing pain slicing up his arm and into his already throbbing head.
Just what he deserved for failing his staff. His software company vied for a multimillion-dollar military contract today at 1100 hours. He could kiss the money and his company goodbye if he didn't show up.
Not an option for a SEAL, even a former one.
He forced open his door, the bent metal groaning and creaking. He stumbled out. Rain spit from the gray winter skies, dampening his mood even more. He grabbed fistfuls of grass and pulled his aching body up to the winding road leading into Portland. He waved at cars, hoping to flag one down, but they sped past as if he were invisible. He'd have to hoof it down the hill to the coffee shop where he got his caffeine fix every morning. They knew him and would let him use their phone.
He hunched into his jacket to fight the wind whistling down the hill and jogged down the road. Ignoring the pain pulsing through his body, he settled into the zone he'd often found as a SEAL after silently dropping behind enemy lines. His mind floated free, and oddly, his father's voice rang in his head.
So you screwed up again. I knew you'd never amount to anything.
Maybe his father was right. He was a screwup. He'd failed most everyone who mattered in his thirty-four years on this earth. His mother, his older sister—both of them killed in a fire set by his crazed father. His fiancée, Wendy, who wanted more from him and had every right to expect it before she'd bailed two years ago. And Hawk. Poor Hawk.
Luke flashed back to Afghanistan, to before he left the SEALs to be close to his only living sister, Natalie. Insurgents rushed his SEAL team—guns blazing in the night, his buddy Hawk falling and never getting up again. All courtesy of an intercepted satellite phone call. Luke held Hawk as he took his dying breath and made a promise to prevent other soldiers' deaths because of satphone security issues. So he'd founded SatCom with Hawk's little brother, Timothy Revello, and their dream was moments from becoming a reality.
If Luke made it to the office before he broke that promise.
He upped his speed and soon swung into the coffee shop, heat instantly cocooning him as the scent of aromatic java perked him up. The owner stood behind the long mahogany bar, a line of customers waiting for their drinks. With no time to wait in line, Luke approached Earl.
Earl placed a cup in front of a young woman, then looked up. "Man, Baldwin. You look rough."
Luke's chest burned from exertion, but he managed to say, "Need your phone, Earl. Car and cell dead. Need to call a cab."
Earl grabbed a cordless phone and a laminated cardstock listing local phone numbers, then slapped them on the counter with a solid whack. "Want your usual when the line gets down?"
Luke nodded, and as he worked to bring his breathing under control, he requested a cab then dialed his partner Tim's direct line at SatCom.
He tapped his foot on the floor as he waited, and caught sight of his scruffy appearance in the front window. A lump, swollen and purple, stuck out on his forehead. A cut on his cheek gaped open and blood saturated his wrinkled pants and shirt. No wonder people were staring at him. He might need to go home and change before the demonstration. If Tim thought he could handle it. A big if for the introverted geek who'd rather walk on a bed of nails than speak in public.
"Revello," Tim finally answered, sounding out of breath.
"It's Luke."
"Where are you?" Tim demanded. "I've been going crazy here."
"I'm sorry." Luke took a quick moment to regroup and not let Tim's frantic tone up his own anxiety. "I ran my car off the road on my way home last night and knocked myself out. I called a cab and should be there in forty minutes tops."
"Forty minutes?" Tim shouted. "You better hope we're still in business by then."
So much for changing clothes.
"Can you stall with General Wilder? Just until I get in."
"Probably, but Wilder's not our biggest problem right now."
"What's going on?" Luke asked calmly, though his heart had kicked into high gear again.
"The procurement committee got an anonymous call late yesterday afternoon claiming our software has been sabotaged."
"What?" Luke barked out.
"Yeah," Tim said. "Wilder sent over a consultant to validate the program. She was waiting at the door when I got here. She's been evaluating the software and our network logs all morning."
"This is a joke, right? To get back at me for being out of pocket and making you worry."
"Nah, man, it's no joke.
"So let me get this straight," Luke said, dread settling over him. "We're minutes from demonstrating our software for the military brass and they send an independent consultant to validate it? Just because some crackpot calls and says it's corrupt?"
"Not just any consultant, but Dani Justice." A waver of uncertainty threaded through Tim's voice.
"You make it sound like she's well-known in the computer world."
"Tops in our field."
"And we're sure the general contracted with her?"
"Yep. Confirmed it with his aide before I let her in the building." Tim paused and a long sigh filtered through the phone.
This can't be happening. "You know anything about this Dani Justice?"
"Yeah, she's legendary in the Portland computer world. She once worked for the FBI in cyber crimes. Now she and her siblings own a private investigation company." Tim snorted. "Working in a mom and pop agency seems like a waste of all that talent, but what do I know."
"I should've known Wilder would hire the best.
Earl called out Luke's coffee order, his face creased with his usual easygoing smile.
Luke held up a finger and smiled back despite his inner turmoil. "Too bad Wilder didn't give us a heads-up."
"He said they couldn't warn us she was coming or we might try to cover up the software's vulnerability."
"We'd never do that. If there was a vulnerability, that is." Luke craned his neck, hoping to see his cab pulling up.
"I know, but Wilder thinks someone at SatCom is guilty. The aide said if they find even a hint of sabotage, Wilder would pursue prosecuting the guilty party for treason."
"Treason!" Luke shouted, the entire coffee shop stilling. He lowered his voice. "That's a pretty serious charge for tampering with software."
"I know, right, but we both know if someone sabotaged it, they could listen in on the military's satellite phone conversations."
"And lives would be lost," Luke added. His gut clamped down as he imagined how the information gained by altering their software could give the enemy an upper hand. Field operations would be vulnerable. Locations known. Soldiers under fire. A shudder claimed Luke's body.
He had to get to the office. Where was his cab? "Before I go, please assure me that Ms. Justice won't find anything wrong with our software."
"We should be good. We've done our due diligence and hired people to validate it. We got a clean bill of health."
Unease niggled at Luke's gut. "But we didn't hire Ms. Justice like the general, did we?
"Are you kidding? We could never have afforded her."
"If you'd come to me I would've found the money somewhere, Tim. You know that."
"Where? You're completely tapped out. You've already sold your house and moved in with your sister. You've even maxed out your credit cards and company loans. So where would this cash come from?"
"Still—"
"I know, I know," Tim interrupted. "If you've told me once you've told me a thousand times. You'd rather our company fails than deploy anything that could put service personnel in danger."
"It's not just talk, you know. I mean every word of it."
"Believe me, I got it." Tim sighed as he usually did when they talked about commitment to honor and sacrifice that soldiers lived and breathed, but Tim had no clue about.
If a SatCom employee had actually tampered with the software and planned to put soldiers at risk, Tim wouldn't believe they deserved to be charged with treason, but Luke did. Even if the lost contract forced SatCom into bankruptcy or if, as the owner of the company, his name and reputation would be tainted for life.
If they don't bring you up on charges, too, and you don't end up in a prison cell of your own.
---
Susan has more books on the way. Though titles and release dates have not yet been confirmed, Susan will post the latest info here as soon as it becomes available.
Don't miss a thing — sign up for Susan's newsletter.
Subscribe